Open Call for Artists - Residency AiR Goyki 3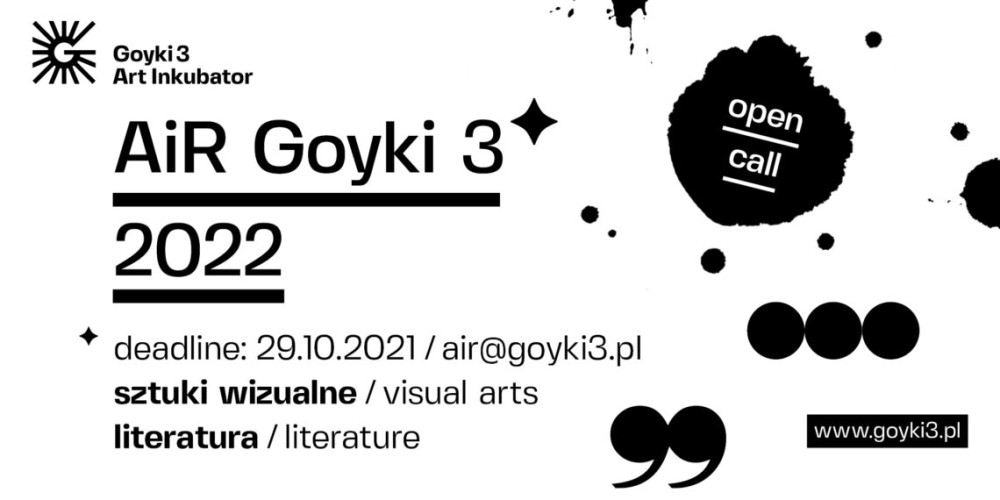 www.goyki3.pl
About Opportunity
AiR Goyki 3 is interested in guiding the creative process and dialogue with artists. The program has no pre-defined themes or goals. Its primary interest is to observe and study the critical reflection of art on modern society and the world.
About Organizer
The Art Inkubator is a new cultural institution of the local government of Sopot, which aims to carry out activities that serve the creation and dissemination of culture, the promotion of cultural education and the support of creative communities.
Art Inkubator seeks to organize residences and international programs through a network of local and international stakeholders.
The Art Inkubator aims to create a space for young artists from anywhere in the world.
Details
Who can Participate:
The competition is open to visual artists, writers, performance artists and people involved in the promotion of art in Poland and abroad.
Location:
Poland
Application details:
To participate, the applicant is required to:
Fill in the AiR Goyki 3 application form;
An overview of the project planned under the program;
Portfolio, application of the artist, which technically explains up to 6 projects (maximum 3MB file in PDF format);
Resume, highlighting the latest projects and important awards.
Award/Prize:
AiR Goyki 3 offers:
Access to Art Incubator Atelier;
Links with local art scenes, meetings and visits to institutions related to the residency profile;
Accommodation for 2 residents during their April-June residency in Sopot;
Reimbursement of project implementation costs for 2 residents up to 8,000 Polish zlotys (non-taxable) for September-November residency.
The duration of the residence is 2 months. During this time, residents will have to visit Sopot and do business there.
The winners of the residency competition are required to arrange at least one open meeting regarding their practice.
Deadline: October 29, 2021